Free Audio Rosary MP3s & More
One of the most popular sets of free audio Rosary MP3s in the world.
BEFORE PRAYING YOUR ROSARY, PLEASE WATCH THIS SHORT VIDEO FROM ROSARY ARMY:
Click the button above to make a tax-deductible donation right now to help Rosary Army spread the Rosary around the world and to continue our mission making, praying, and giving away all-twine knotted Rosaries, audio prayers, and more.
*NOTE: Because of multiple misuses of our media, it is unfortunately necessary to state the following:
Rosary Army's audio, video, or other content (including That Catholic Show, and other media) may not be copied, reproduced, re-edited or incorporated into any online or mobile application or any other distribution method (such as YouTube, Vimeo, etc.) without express written permission from Rosary Army Corp.
Any use of Rosary Army's audio and video files by other third-parties will be subject to copyright violation penalties. All media is produced and Copyright © 2020 Rosary Army Corp.
Catholic Podcasts to Grow Your Faith
PODCAST: ADVENTURES IN IMPERFECT LIVING
Adventures in Imperfect Living is a weekly Catholic podcast hosted by Rosary Army co-founders Greg and Jennifer Willits
Greg dresses fancy in a cat hair jacket, New Year's trip to the ER, and wrapping up the 2022 RA Giving Campaign.
Adventures in Imperfect Living
EPISODE 411 SHOWNOTES & LINKS
0:00 –  They've been married for quite awhile…
0:36 – On this week's show
1:08 – Cat Hair Jacket
4:37 – ER in the New Year
1:08:51 – Wrap it up
Give us your review in iTunes!
We're "imperfectliving" on Facebook and @gregwillits and @jenniferwillits on Twitter and Instagram.
Send your audio and email feedback to [email protected]
Adventures in Imperfect Living by Greg and Jennifer Willits is licensed under a Creative Commons Attribution-NonCommercial-ShareAlike 4.0 International License
The post Cat Hair Jacket appeared first on Greg and Jennifer Willits.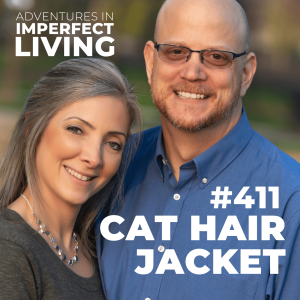 Search Results placeholder
PODCAST:
CATECHISM CLASS
Catechism Class is a walk through the Catechism of the Catholic Church from beginning to end.
Catechism Class 050: The Church is One
We begin a multiple-episode arc as we evaluate the four marks of the true Church established by Jesus Christ – one, holy, Catholic, and apostolic.
Catechism Class is sponsored in part by Select International Tours. Check them out and thank them for sponsoring the program!
Join Catholic podcast veterans and expert teachers Greg and Jennifer Willits from Rosary Army and Adventures in Imperfect Living as they walk with you through the Catechism from beginning to end.
It's like the best book club, coffee talk, religious education class, and study group all rolled into one!
In Catechism Class we explain what the Catechism is, how to use it, and reveal several little known secrets that'll help explode your discovery of the Bible in light of the Tradition of the Catholic Church.
The post Catechism Class 050: The Church is One appeared first on Greg and Jennifer Willits.
Search Results placeholder
Standard and Scriptural Rosary MP3 Files
JOYFUL MYSTERIES MP3
Mondays and Saturdays
Pray the Joyful Mysteries of the Rosary and meditate on the early life of Jesus Christ:
The Annunciation (Luke 1:26-38) - Humility
The Visitation (Luke 1:39-45) - Love of Neighbor
The Nativity (Luke 2:1-21) - Poverty
The Presentation (Luke 2:22-38) - Obedience
The Finding of Jesus (Luke 2:41-52) - Piety and Fear of the Lord
JOYFUL - STANDARD VERSION
JOYFUL - SCRIPTURAL VERSION
LUMINOUS MYSTERIES MP3
Thursdays
Pray the Luminous Mysteries of the Rosary and meditate on the years of ministry of Jesus Christ:
Baptism of Jesus (Matt. 3:13-16) - Openness to Holy Spirit
Wedding at Cana (John 2:1-11) - To Jesus through Mary
Proclamation of the Kingdom (Mark 1:14-15) - Repentance
The Transfiguration (Matt. 17:1-8) - Desire for Holiness
Institution of the Eucharist (Matt. 26) Fruit - Eucharistic Adoration
LUMINOUS - STANDARD VERSION
LUMINOUS - SCRIPTURAL VERSION
SORROWFUL MYSTERIES MP3
Tuesdays and Fridays
Pray the Sorrowful Mysteries of the Rosary and meditate on the Passion and Death of our Lord Jesus Christ:
Agony in the Garden (Matt. 26:36-56) - Contrition
Scourging at the Pillar (Matt. 27:26) - Purity
Crowning of Thorns (Matt. 27:27-31) - Moral Courage
Carrying of the Cross (Matt. 27:32) - Patience
The Crucifixion (Matt. 27:33-56) - Self-Denial
SORROWFUL - STANDARD VERSION
SORROWFUL - SCRIPTURAL VERSION
GLORIOUS MYSTERIES MP3
Sundays and Wednesdays
Pray the Glorious Mysteries of the Rosary and meditate on Eternal Life through our Lord Jesus Christ:
The Resurrection (John 20:1-29) - Faith
The Ascension (Luke 24:36-53) - Hope
Descent of the Holy Spirit (Acts 2:1-41) - Wisdom
Assumption of Mary (Rev 12:1) - Devotion to Mary
The Coronation (Rev 12:1) - Eternal Happiness
GLORIOUS - STANDARD VERSION
GLORIOUS - SCRIPTURAL VERSION
Additional Free Audio Prayers
THE DIVINE MERCY
Pope St. John Paul had a great devotion to The Divine Mercy, associated with the apparitions of Jesus to St. Faustina Kowalska, and instituted the Feast of Divine Mercy to be celebrated the first Sunday after Easter. The Hour of Mercy (3PM) is the time of Jesus' death, according to St. Faustina's diary, and is a popular time to recite this Chaplet of Divine Mercy.
LITANY OF HUMILITY
The Litany of Humility is commonly attributed to Rafael Cardinal Merry del Val (1865-1930), who served as Cardinal Secretary of State under Pope Pius X, but earlier versions of the litany are also known.
THE ANGELUS
The Angelus (Latin for "angel") is a Catholic prayer with origins in churches, convents, and monasteries where it is traditionally prayed three times daily (6AM, 12 Noon, and 6PM) to commemorate the Incarnation as written in Luke's Gospel (1:26–38) when the angel Gabriel appeared to the Virgin Mary with a message from God that she would conceive a child to be born the Son of God.
REGINA COELI
The Regina Coeli (also spelled Caeli) is one of four antiphons dedicated to Our Lady, often sung or recited, usually at noon, in place of The Angelus during the Easter Season from Holy Saturday until Pentecost.
ST. BRIDGET'S 7 SORROWS OF MARY
The Seven Sorrows of Mary devotion was passed on by St. Bridget. The tradition holds those who daily honor the Blessed Virgin Mary by meditating on her tears and sorrows (dolors) each day will be granted these seven graces:

1. I will grant peace to their families.
2. They will be enlightened about the divine mysteries.
3. I will console them in their pains and I will accompany them in their work.
4. I will give them as much as they ask for as long as it does not oppose the adorable will of my divine Son or the sanctification of their souls.
5. I will defend them in their spiritual battles with the infernal enemy and I will protect them at every instant of their lives.
6. I will visibly help them at the moment of their death, they will see the face of their Mother.
7. I have obtained from my divine Son, that those who propagate this devotion to my tears and dolors, will be taken directly from this earthly life to eternal happiness since all their sins will be forgiven and my Son and I will be their eternal consolation and joy.

ST. BRIDGET'S 12-YEARS PRAYER
St. Bridget, a 14th-century mystic, died on July 23, 1373 (which is now her feast day). Throughout her life she received numerous revelations and this particular prayer was allegedly given with great promises attached. Unusually, these mediations are said daily for twelve years to honor the moments in his life when Christ shed His Precious Blood. While there are various reports on this particular prayer, various resources show these prayers being approved by both Pope Clement XII and Pope Pius IX.


JOHN PAUL II'S STATIONS OF THE CROSS
The stations of the cross based on those celebrated by Pope John Paul II on Good Friday 1991, prayed by Greg and Jennifer Willits, founders of Rosary Army. Visit www.RosaryArmy.com for more from Rosary Army.